Chuck Ainsworth
Hi, my name is Chuck Ainsworth and am now retired from corporate America. During my working lifetime I worked as a Medical Technician, Process Control Engineer, Hospital Information Systems Manager, Medical Software Engineer, and finished my career as a Software Quality and Configuration Engineer. I was fortunate enough to become an international traveler while working at Motorola, Eclipsys Corporation, and Pearson Education.  While working at these companies I have been to Canada, Japan, Germany, France, England, and India performing software installation and support.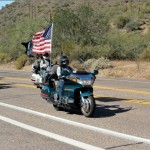 I am an avid motorcycle rider and have been riding since 1961 and am member number #000003 of the Gold Wing Road Riders Association (GWRRA) and a member of the Motorcycle Color Guard of America (MCGA). Here I am carrying the American flag in one of our color guard presentations.
Over the years I have owned 14 motorcycles, and now ride a 1996 Honda Gold Wing.  I have probably ridden over 500,000 miles on a motorcycle with only one minor accident with no injuries. For six years I was in open wheel racing on dirt tracks in AZ and now know what it feels like to go into a turn twice as fast as your mind tells you that it is safe to go and still easily navigate it. Lots of fun and excitement but took a lot of time and money.
During my life, I have always believed that one's well being is related to their health and have played racquetball for over 30 years in order to keep physically fit. I still play 3 times a week. I have also picked up Pickleball and in the process of learning that sport. Both are great exercise.
With the downturn in the market in 2008 I decided it was time to once again branch out and now I am in the learning phase on how to make money through the use of the internet. Even though I started out in early 2009 on internet marketing and sales and have studied lots of materials and spent a ton of money, I feel that I am still in the learning phase.
When I first desired to own my own website I knew very little on how to go about getting one started. I ended up asking lots of questions which took quite a bit of time before I knew enough to even obtain a domain name. Then I had to learn about website hosting. Working with a couple other individuals we invested $5,000 dollars on a service to get us started which we ended up throwing away. About the only thing I can say about that adventure was that I learned a lot about obtaining domains, website hosting, website design, keyword, titles, etc.  Following is some of the websites and I created and am still the webmaster.
Association:               http://shalimarassociation.org
Book Author:             http://spiritualfreedompress.com
Color Guard:              http://mcga.us/
Magnifing Viewers: http://image4u.com/
Motorcycle Assoc:    http://gwrraaz.org/district/
Pickleball Club:        http://pecospickleballclub.org/
SAT Tutoring:           http://academic-sat-tutoring.com
This is just a sample of some of the websites that I support.